Ya ha pasado una semana desde que acabó el Microsoft Inspire 2019 en Las Vegas, el evento anual de partners de Microsoft donde nos empapamos de las novedades tecnológicas de la compañía y cómo podemos trasladarlas a nuestros clientes.
En esta edición, y supongo que tras recibir el feedback de la edición pasada, Microsoft ha unido el evento de partners y el interno de la compañía (Microsoft Ready) haciendo coincidir no solo las fechas, sino también numerosas actividades por lo que al menos en mi experiencia, ha habido más relación entre partners y personal de la compañía que en ediciones anteriores.
IUR y requerimientos de competencias
Antes de centrarme en las novedades sobre el área que más me interesa –Microsoft Azure-, una de las acciones más aplaudidas fue cuando Gavriella Schuster, Corporate VP – One Commercial Partner, abrió la conferencia el primer día comentando la decisión de dar marcha atrás a la decisión de eliminar los IUR, derechos de uso interno de software y servicios que Microsoft ha venido ofreciendo desde sus inicios. Semanas antes, el anuncio de la eliminación de los IUR había causado mucho revuelo ya que no sólo se eliminaban estos derechos, sino que se endurecían enormemente los requerimientos para conseguir las competencias que hacen que un Partner destaque en un área concreta.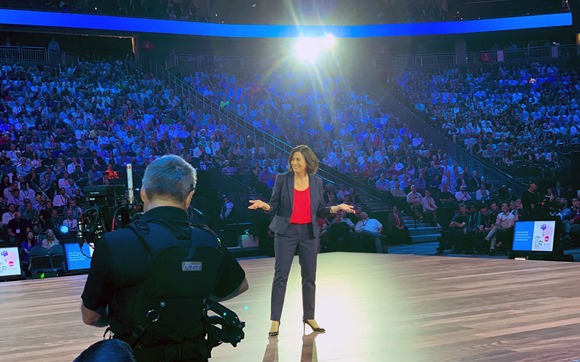 Aunque por supuesto también se puede leer entre líneas el aviso a navegantes: tarde o temprano, esto va a suceder, solo que se anunciará con más antelación para que cada compañía pueda actuar en consecuencia. Si en décadas anteriores ceder licencias de uso interno no suponía un gasto directo en las cuentas de Microsoft, con la transformación del software en servicios en línea sí que hay costes operativos de mantener los servicios. No hay más que hacer números: casi 70.000 partners con derechos de uso interno de hasta 100 usuarios, puede llevar a unos costes, solo en Dynamics 365 de unos 300 millones de euros al año, y eso tirando a la baja.
Respecto al endurecimiento de las competencias la intención de Microsoft es, en mi opinión, reducir el número de partners quedándose con los más competentes y con aquellos que quieran apostar por el partnership y la oportunidad que hay por delante. Y si bien no será del gusto de todos, es algo que aplaudo ya que le dará muchísimo más valor al ecosistema de partners.
Nuevo contrato Microsoft Cloud Agreement (MCA)
Otro de los grandes puntos que estaban presentes en casi todas las sesiones a las que asistí, es la introducción del nuevo contrato de Microsoft para servicios en la nube. Este contrato viene a resolver la problemática que ha existido entre las diferentes formas que un cliente puede adquirir los servicios de Microsoft: directamente (Self-Service); a través de un Enterprise Agreement; o a través de un partner de nuevo con diversos formatos, siendo el Cloud Solution Provider (CSP) el más extendido durante los últimos años.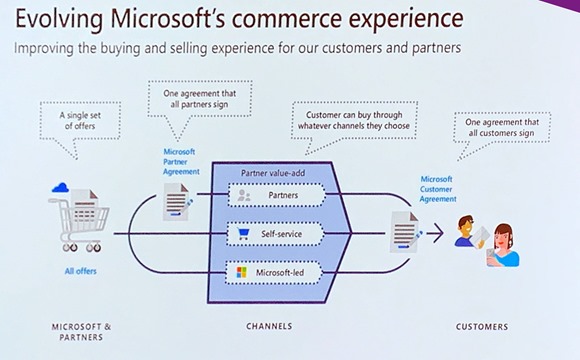 La idea es la unificación de todos los canales en un mismo MCA que es el que firma el cliente final, con lo que el cliente se puede mover entre los distintos canales sin necesidad de hacer malabarismos. Hoy en día, por ejemplo, no se puede migrar el contenido de una suscripción EA a una CSP o viceversa, sin hacer complejas operaciones de migración. También permitirá por fin, ofrecer todas el software de terceros que existe en el marketplace de Azure a través de la red de partners y bajo el mismo contrato.
Obviamente la facilidad de que el cliente se pueda mover de un modelo a otro de forma trasparente, puede llevar a pensar que Microsoft quiere partners que den valor añadido, bien sea a través de servicios administrados, consultoría, etc. o cualquier otra acción que aporte valor en la cadena. Los partners que se dediquen exclusivamente a la reventa de suscripciones sin aportar nada adicional, podrían ver peligrar sus operaciones si continúan con ese modelo, por lo que es un buen momento para analizar qué servicio diferencial pueden ofrecer a sus clientes.
Este nuevo contrato ya está disponible en versión preliminar para que los asociados puedan revisarlo, y podrá comenzar a aplicarse de forma voluntaria a partir del 1 de septiembre de 2019, siendo de forma obligatoria a partir del 31 de enero de 2020.
Servicios profesionales en el Azure Marketplace
Y para facilitar la tarea de ofrecer valor, Microsoft abre en el Azure Marketplace dos nuevas categorías que cada partner puede ofrecer a sus clientes basados en servicios profesionales: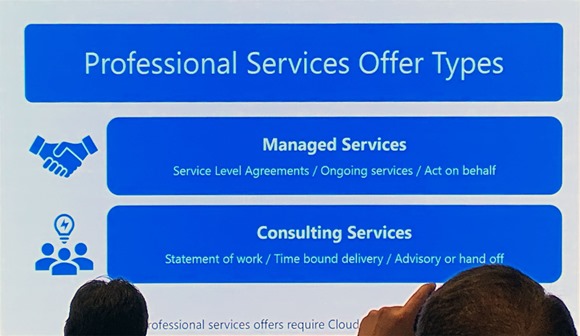 Servicios administrados: los partners podrán publicar ofertas de servicios administrados a través del Azure Marketplace, de manera que cualquier cliente podrá contratar directamente los servicios de un partner a través del portal de Azure para que les ayude a administrar una carga de trabajo determinada (aquí la especialización también será un factor decisivo);
Servicios de consultoría: si bien esto ya estaba disponible en algunas regiones (USA, Canadá, etc.), ahora se abre a cualquier partner para que pueda ofrecer distintos servicios de consultoría, workshops, formación, etc. directamente a través del portal de Azure.
Personalmente lo que se me antoja complicado es la visibilidad que puedan llegar a tener estas ofertas si tan solo la mitad de los 70.000 partners suben al marketplace sus ofertas de servicios profesionales. Me imagino que en varias iteraciones se irá afinando para que los clientes puedan descubrirlas a través de diversas utilidades como restricción geográfica y otros parámetros, como se hace hoy en día cuando un cliente busca un asociado en la MPN.
Azure Lighthouse
Y precisamente para apoyar todo el mensaje anterior, nace Azure Lighthouse, una herramienta para que hacer la vida más fácil a los que gestionamos suscripciones de Azure de distintos tenants y de distintos clientes.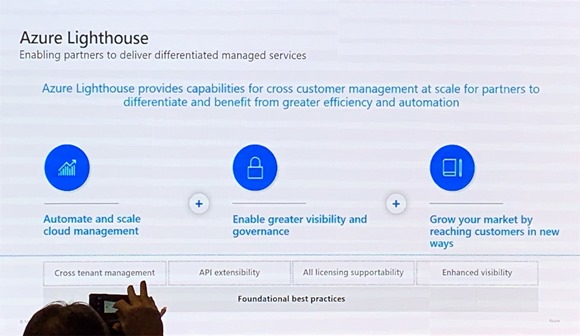 Esta herramienta permite, si tener que estar cambiando de tenant en el portal de Azure, poder administrar las suscripciones y recursos de los tenants de los clientes a quienes éstos hayan concedido acceso de forma segura. Se acabó el tema de estar usando credenciales en cada cliente, o tener una lista de más de 100 tenants bajo el perfil de usuario. También abre la posibilidad de poder monitorizar desde un mismo dashboard recursos de diversas cuentas. Según nos comentaron, durante el periodo de prueba interno los que usaron la herramienta vieron incrementada su productividad un 70%. ¿Aún no he comentado que es gratuita?
Por otra parte, no es una herramienta exclusiva para asociados, por lo que si tienes un entorno con varios tenants, y tienes la misma problemática, seguramente vas a querer utilizarla.
Precios fijados en USD, facturados en moneda local
Y finalmente, otra de las cosas con las que tengo sentimientos encontrados, es la unificación global de los precios de Azure en un único listado de precios en dólares estadounidenses. Esto quiere decir que se equipara el formato con el de AWS, que ha evitado el tener que fijar precios en cada moneda local a lo largo y ancho del globo. La factura se realizará en cualquier caso, en la moneda local con el tipo de cambio que esté en ese mes.
"Based on customer and partner feedback, the new Azure experience in CSP will use a single pricelist, in USD, providing customers and partners with consistent pricing at a global scale. This will allow for a more transparent and simplified pricing reference, regardless of how the customer buys Azure from Microsoft." https://blogs.partner.microsoft.com/mpn/expanding-partner-opportunities-with-azure-csp/
Esta es una de las acciones que más me hace pensar sobre varios escenarios:
ISVs que hasta ahora tenían fijados unos costes operativos, puede que ahora estos costes sean variables si trabajan con moneda distinta al dólar estadounidense;
Cómo vender a los clientes el hecho de que si bien ya es difícil hacer una estimación de consumo según pago por uso, ahora hay que añadir las posibles variaciones en el tipo de cambio de divisas
Cómo se van a tomar esto los clientes que no han trabajado nunca con una moneda que no sea la propia
Lo que está claro es que eso para los clientes de AWS nunca ha sido un problema, y lo que Microsoft quiere en este sentido, aparte de simplificar enormemente sus operaciones internas, es la de que sea más fácil comparar peras con peras. ¿Empujará esto el uso de instancias reservadas para así hacer los pagos upfront y evitar posibles cambios en la conversión de divisas?
Conclusiones
La verdad es que esta edición del Microsoft Inspire ha sido muy…inspiradora :) No solo por tener de nuevo la oportunidad de ver y oír a Satya Nadella introduciendo el futuro que tenemos y vamos a construir (pulsa en la imagen para ver la Corenote completa);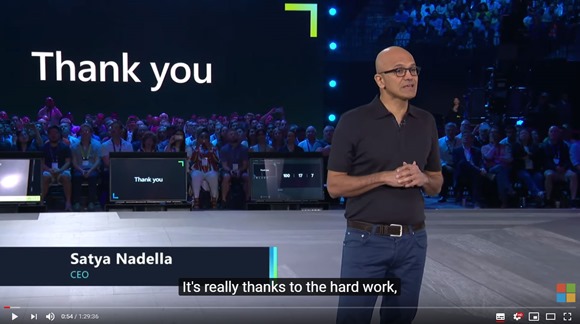 no sólo por la oportunidad de ver en directo a Simon Sinek con su charla "The Infinite Game" que por cierto, creo que la parte de las preguntas y respuestas me gustó incluso más que la propia charla; no solo por la oportunidad de poder a ver a Queen + Adam Lambert en directo…que también! Sino también por la oportunidad de conectar con una red global de asociados demostrando que es el sitio para hacer negocios en torno a tecnologías Microsoft.
No quisiera terminar sin también destacar el buen trabajo del equipo a cargo de la delegación española que hizo que todo saliera a la perfección, no solo eligiendo unas actividades en sitios "refrescantes" (los 47ºC que llegué a ver en un termómetro no son para tomárselo a broma), sino manteniéndonos constantemente informados de todo lo que iba a suceder. Chapó!
¡Nos vemos en Microsoft Inspire 2020!